Oct 18, 2021 11:56 AM Central
Terri Chrisman
CREAMY PUMPKIN SOUP
I LOVE Autumn and all the lovely flavours that come with it. Cinnamon, Clove, Nutmeg, Orange. So yummy.
Usually pumpkin soup is full of cream - or if it's vegan, it's full of cashew nuts to mimic that creaminess.
I've come up with a way to make this soup luscious and creamy WITHOUT any dairy and WITHOUT added fat, sugar or salt. So it's nut free too!

I used 2 types of pumpkin, Butternut and Kambocha, but you can use any kinds you like. I like these varieties because they add a really nice sweetness. And, if you are a pumpkin purist, you may say they are not pumpkins at all, but in fact are squash. Well, in my world if it's hard and orange and has pumpkin seeds inside, it's a pumpkin.

I used Essential Oils in this recipe to get the complex Fall flavours. They are so versatile and delicious, but be warned - they are very potent! Just a drop or two will do it and ALWAYS only use the Young Living Culinary Vitality Oils as these are safe to eat. Of course, if you want to use dried spices too, that will be fine.
A little sage might be lovely as well. Just spice it to your taste.

Let me know if you make this soup and leave a comment below.
Happy Fall Y'all!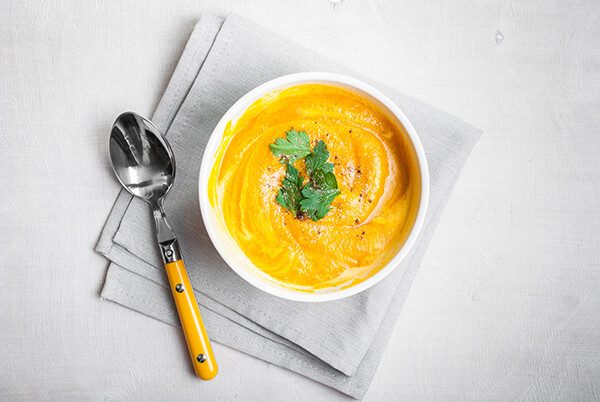 INGREDIENTS
1/2 small Butternut Squash
1/4 Kombacha Squash
1/2 Large Onion
3-5 Cloves Garlic
2 Medium potatoes
4 cups Salt Free or Low Sodium Veggie Stock
2-3 Drops Pumpkin Spice Essential Oil Blend (see below)
INSTRUCTIONS
Roughly chop the squashes, and onion. Add to a baking tray with the garlic.Bake at 375 degrees for 30-45 minutes or until cookedMeanwhile, peel and chop the potatoes and cook for 20 minutes or until soft in the veggie stock.Make a Pumpkin Spice Essential Oil Blend. Into a small glass bottle, decant: 2 parts Cinnamon, 1 part Clove, 1 part Nutmeg
Vitality Essential Oils
.
When everything is cooked, peel the garlic and transfer everything to a high speed blender.
Add the essential oils 1 drop at a time. Blend and taste. I used 3 drops total. (Add 1 drop , blend taste. Add another drop, blend, taste etc till you get the desired flavour).Reheat and serve .
Like what you see here?
Follow me on Social Media