May 30, 2022 01:13 PM Central
Terri Chrisman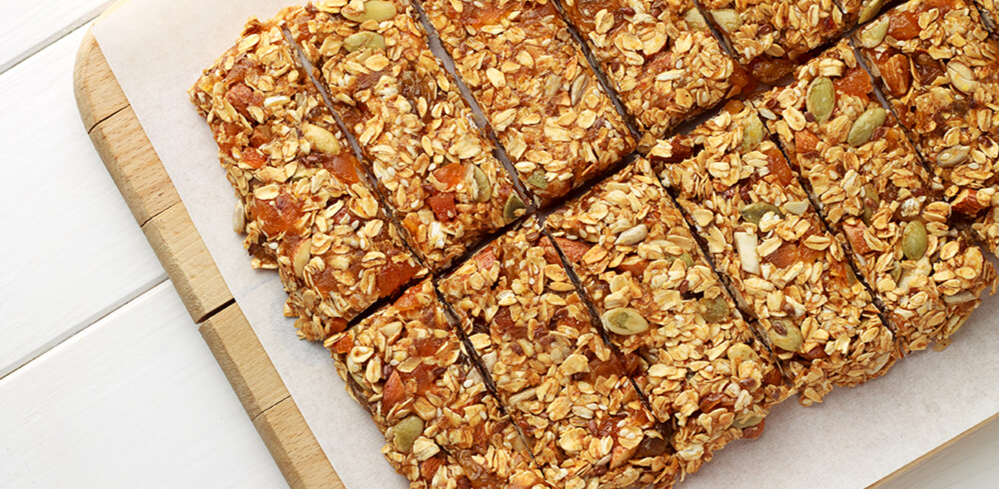 KITCHEN DIVA GRANOLA BARS
I didn't invent this recipe, I saw it on Dr Oz about 10 years ago. They are called Kitchen Diva Granola Bars because the lady who was on the show was called the Kitchen Diva. Credit where credit is due.
The original recipe wasn't 100% plant-based, so I adapted it and took out the animal products and processed flour.
NOW, it's perfect.

Ditch those store bought granola bars and make your own.
Of course, you can alter the ingredients as much as you like. Don't have sunflower seeds? Use pumpkin seeds. Don't like dried apricots? Use dried apples.
It's totally up to you. Mix it up and ENJOY!
185 Calories
25gm CHO
10gm Protein
5gm Fat
DRY
1 cup quick- cooking rolled oats
1/2 cup raw unsalted sunflower seeds
1/2 cup toasted wheat germ
1/4 cup whole wheat pastry flour
1/2 cup dried apricots
1/2 cup raisins
1/2 cup raw almonds
1/2 tsp ground cinnamon
1/2 tsp nutmeg
1 Scoop Plant based protein powder (optional)
WET
1 small, ripe banana
1 cup plain soy yogurt or 8 oz soft, silken tofu
1/4 cup pure maple syrup or agave syrup
1 tsp vanilla
2 flax eggs (2Tbs flax + 5Tbs water)
Preheat the oven to 350°F. Coat a 9x13-inch baking pan with cooking spray or line with wax paper.
Place the oats, sunflower seeds, wheat germ, flour, apricots, almonds and raisins in a bowl and mix. Add the banana, yogurt or soft tofu, cinnamon, nutmeg, syrup, flax eggs and vanilla to a blender, and pulse 6 or 8 times until the mixture is well combined. Mix the wet with the dry. The mixture will be sticky.
Transfer the mixture to the baking pan and spread it out evenly using the back of a spatula sprayed with cooking oil spray, or by running your hands under cold water and using them to press the mixture evenly into the pan.
Bake until just done, about 15 to 18 minutes. Remove from the oven and allow to cool and firm up, about 5 minutes. Cut into 20 squares and package into individual portions by wrapping in wax paper, plastic wrap or small, re-sealable bags. Or wrap in foil and freeze for later.
Like what you see here?
Follow me on Social Media